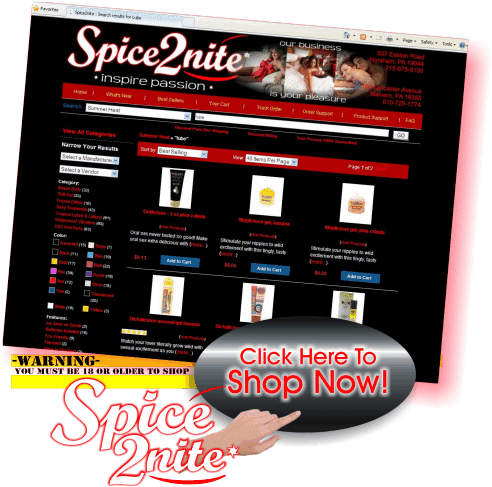 We've partnered with
Eldorado Stores International
, one of the largest adult gift and novelty retailers in the world!
WHY? Simple: ESI can provide our clients with the largest array of products (they have everything) at the very best price. Plus, as an independent retailer, they handle all the billing (verrrry discretely) and provide the highest level of direct customer service.
Please note that ASI is not a division of Spice2Nite, they're an affiliated partner. Our sales, specials and gift certificates are for our stores in Malvern & Horsham only (not online).
We just don't want there to be any confusion!
So... go ahead... Click the SHOP NOW button, take a look around and do a little shopping! Oh, and of course,
HAVE FUN!
One More Thing:
Our online store is AWESOME....
but... If you want to save even more...
Come See Us In Store!